Are you working with tea professionally or thinking about entering the tea industry? Is Japanese tea something you would like to learn more about? Then we have something just for you – a two-week Japanese Tea Master Course in Wazuka, Kyoto.
The aim of the course is to allow you to develop a full understanding of Japanese tea, as a result of which you will become more knowledgeable about the product and better equipped to guide your own customers.
The Advanced Japanese Tea Course covers a wide range of topics: from tea cultivation and production to history, culture and consumption; and provides a unique opportunity to gain hands-on experience with Japanese tea. The program is delivered by Japanese tea experts, able to relay the deep going information and cultural background in an understandable and easy to follow manner. Moreover, the course is hosted in Wazuka, that has over 800 years of Japanese tea cultivation history and is one of the main producer of the famous brand – Ujicha tea.
Therefore, participation in the course will give you access to valuable insider's information, otherwise inaccessible experiences, and course material that will be useful for the rest of your career.
Outline of Content
Day 1 – Welcome session and introduction of the main kinds of Japanese teas
Day 2 – Introduction to tea farming activities and primary processing followed by machine harvesting exercise and a visit to a tea factory
Day 3 – Traditional hand tea picking and rolling
Day 4 – Introduction to the secondary processing with hands-on experience
Day 5 – All about tea science with a deeper look into the effect of water quality and temperature on tea
Day 6 & 7 – Free time to explore Kyoto, Nara, Osaka or farther Japan
Day 8 – Japanese tea history and introduction to Matcha
Day 9 – Tea ceremony: introduction, demonstration and practical exercise
Day 10 – Introduction to other types of tea ceremonies and other types of Japanese teas
Day 11 – Japanese teaware: introduction and brewing exercise
Day 12 – Tea hike, tea and food pairing and closing session
*Content may be revised
Course Dates
The course will be held Monday to Friday between 10th July – 21st July, 2017
Group Size
To ensure personable learning and attentive delivery of the course availability is limited to 10 people
Course Language
The course will be delivered in English
About the Accommodation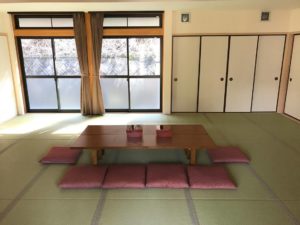 During the course the accommodation is provided in a freshly renovated traditional Japanese guesthouse. The spacious rooms are built in a traditional Japanese style with tatami floor and futon bedding. There is also a tv and spacious storing cabinets with sliding Japanese doors. Towels, amenities and Yukatas (Japanese style leisure clothing) are also provided.  The single sex rooms will be shared between 2-4 course participants. 3 showers, 6 toilets (3 for women and 3 for men) and 3 washroom sinks are also shared between all course participants.
Course Cost
The cost of the course program is 178,000yen. The accommodation and catering will additionally cost 120,000yen.
What is included:
Course classes and workshops delivered by Japanese tea experts
Course handouts
Course graduation certificate
Accommodation in a recently renovated traditional Japanese guesthouse between 10th-14th and 16th-22nd July (you will be able to store your luggage at the guest house during the weekend)
Catering: breakfast, lunch and dinner
Transport during the course (to and from the course activity locations)
What is not included
Flight tickets to and from Japan
Travel to Wazuka before the start of the course and from Wazuka after the end of the course
Accommodation on 15th July (Over the weekend we encourage you to explore Japan)
Travel insurance (please choose an insurance that does not exclude cover for farming activities and manual labour)
Personal expenses
Registration
To register for the course please complete the form at the bottom.  Submitted registrations will be reviewed and successful candidates will be confirmed by email.
Cancelation
Full refund until 1 month before the start of the course, no refund after that.
If you have any questions please contact us at info@obubutea.com