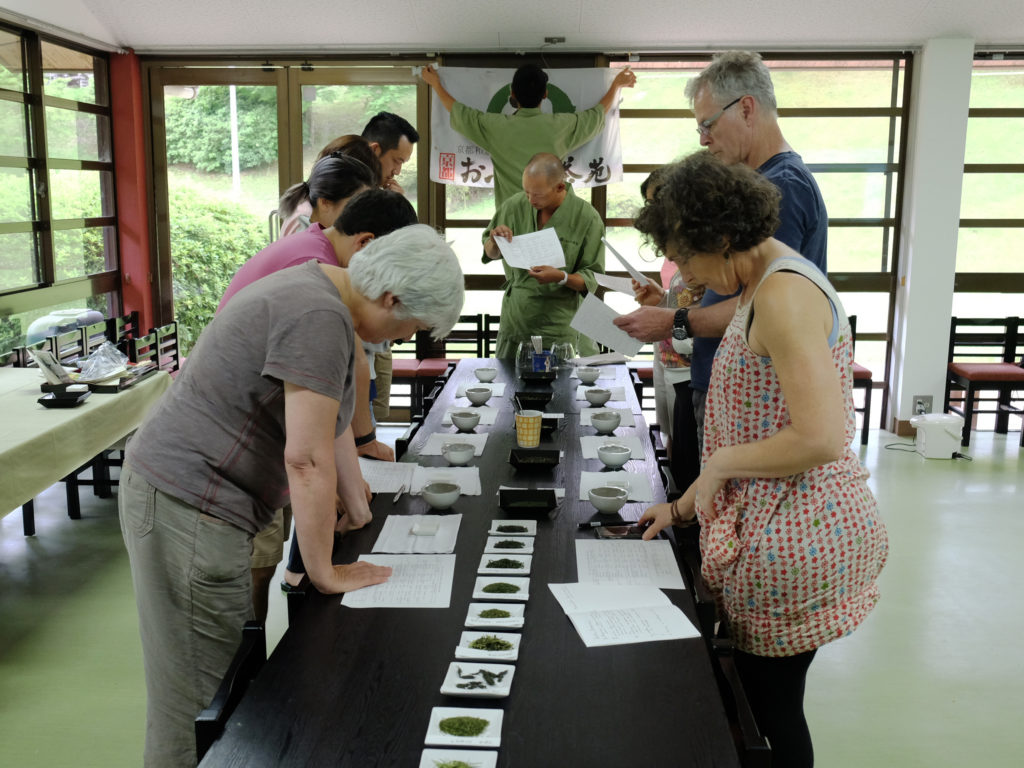 Are you working with tea professionally or thinking about entering the tea industry? Is Japanese tea something you would like to learn more about? There is something just for you – a two-week Japanese Tea Master Course. The Course is organized by the Global Japanese Tea Association and supported by Obubu.
The aim of the course is to allow you to develop a full understanding of Japanese tea, as a result of which you will become more knowledgeable about the product and better equipped to guide your own customers.
The Japanese Tea Master Course covers a broad range of topics: from tea cultivation and production to history, culture and consumption; and provides a unique opportunity to gain hands-on experience with Japanese tea. The program is delivered by Japanese tea experts, able to relay the deep going information and cultural background in an understandable and easy to follow manner. Moreover, the course is hosted in Wazuka, that has over 800 years of Japanese tea cultivation history and is one of the main producer of the famous brand – Ujicha.
Therefore, participation in the course will give you access to valuable insider's information, otherwise inaccessible experiences, and course material that will be useful for the rest of your career.
Course Content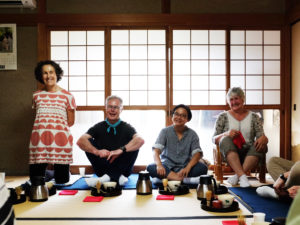 Day 1 – Introduction to tea brewing; Japanese tea history overview; Sencha tasting & evaluation
Day 2 – Current situation of Japanese tea; Introduction to tea cultivation & processing; Matcha tasting & evaluation
Day 3 – Machine-harvesting exercise; Sencha factory visit; Tea pan-frying exercise
Day 4 – Introduction to organic tea; Visit to several tea farms & factories to meet local tea farmers
Day 5 – Overview of tea components; Japanese tea ceremony demonstration & practice
Day 6 & 7 – Free time to explore Kyoto, Nara, Osaka or farther Japan
Day 8 – Introduction to Japanese tea business; Tea storage; Gyokuro tasting & evaluation
Day 9 – Visit to a tea research center; Water for tea; Hojicha tasting & evaluation
Day 10 – Visit to a tea auction; Visit to a Matcha factory; Tea blending class
Day 11 – Tea hand-picking exercise; Traditional tea hand-rolling exercise
Day 12 – Senchado ceremony; Rare Japanese tea tasting & evaluation
*Content may be revised
Course Dates
The course runs Monday to Friday. In 2020 it will be held 4 times and the available dates are:
13th Apr – 24th Apr, 2020
25th May – 5th Jun, 2020
6th Jul – 17th Jul, 2020
31st Aug – 11th Sep, 2020
Group Size
To ensure personable learning and attentive delivery of the course is limited to 12 people.
Course Language
The course is delivered in English.
About the Accommodation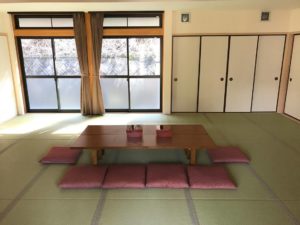 During the course the accommodation is provided in a freshly renovated traditional Japanese guesthouse. The spacious rooms are built in a traditional Japanese style with tatami floor and futon bedding. There is also a tv and spacious storing cabinets with sliding Japanese doors. Towels and amenities are also provided. Rooms will be shared between 2-4 course participants of the same gender. 3 showers, 6 toilets (3 for women and 3 for men) and 3 washroom sinks are also shared between all course participants.
Course Cost
The cost of the course program is 225,000yen. The accommodation and catering will additionally cost 120,000yen.
What is included:
Course classes and workshops delivered by Japanese tea experts
Course handouts
Course completion certificate
Accommodation in a beautiful traditional Japanese guesthouse during the course dates (you will be able to store your luggage at the guest house during the weekend)

April Course: 12th – 18th April and 19th – 25th April, 2020
May/June Course:  24th – 30th May and 31st May – 6th June, 2020
July Course: 5th – 11th July and 12th – 18th July, 2020
August/September Course: 30th August – 5th September and 6th – 12th September , 2020

Catering: breakfast, lunch and dinner (About special diets please consult us during the registration)
Transport during the course (to and from the course activity locations)
What is not included:
Flight tickets to and from Japan
Travel to Wazuka before the start of the course and from Wazuka after the end of the course
Weekend accommodation (Over the weekend we encourage you to explore close by cities: Kyoto, Osaka, Nara)

April Course: 18th April
May/June Course: 30th May
July Course: 11th July
August/September Course: 5th September

Travel insurance (please choose an insurance that does not exclude cover for farming activities and manual labour)
Personal expenses
Application Flow
| | | |
| --- | --- | --- |
| Course Dates | Application Deadline | Notice of the Application Result |
---
| | | |
| --- | --- | --- |
| 13th Apr – 24th Apr, 2020 | 31st Dec, 2019 | 15 Jan, 2020 |
---
| | | |
| --- | --- | --- |
| 25th May – 5th Jun, 2020 | 31st Jan, 2020 | 15th Feb, 2020 |
---
| | | |
| --- | --- | --- |
| 6th Jul – 17th Jul, 2020 | 15th Mar, 2020 | 30th Mar, 2020 |
---
| | | |
| --- | --- | --- |
| 31st Aug – 11th Sep, 2020 | 30th Apr, 2020 | 15th May, 2020 |
Cancelation
More than 2 months prior to the course start date: 100% refund
Less than 2 months but more than 1 month prior to the course start date: 50% refund
Less than 1 month prior to the course start date: no refund
Application
To apply please visit the Global Japanese Tea Association website.
If you have any questions please email at info@gjtea.org