Hello everyone! My name is Moe from Japan, and I am a intern coordinator at Obubu.
I have been writing some article on our Japanese website about our internship students since this April and from now am going to translate it so I can share more information about Japanese tea, Obubu, Internship Program and more!
You can also find the original article here if you are interested!
The spring harvest has finished here at Obubu a couple of weeks ago and our interns has been helping a lot and has contributed very much during the busiest time!
Thank you, the interns :)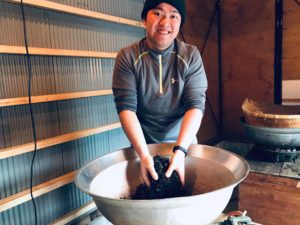 Today I would like to introduce you one of our excellent interns who had run through togerther with us during the whole 3 months included this busiest season, Eric!!!
Eric, a 29-year-old man from New York, USA, worked as an accountant at a company in New York before coming to Japan.
He loves tea so he often visits tea shops in New York, especially for shops dealing with Taiwanese tea and Chinese tea which are his favorite types of tea.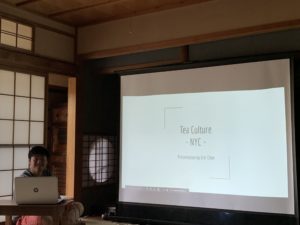 One day at Tea Discussion, which takes place three times a week, mostly runs by intern students themselves, he introduced to us about the tea culture in New York that included some shops he likes in NY.
Here are the shops he introduced to us during the tea discussion so please check out the link below if you are interested and especially, his favorite one is TShopNY so please come and see when you are around!
TShopNY https://www.tshopny.com
Fang Gourmet Tea https://www.fangtea.com
Cha-an  https://www.chaanteahouse.com
According to Eric's presentation , it seems that the market for bubble tea is still growing since there is a huge demand for it in New York. Because of that, a new style of tea culture is developing, over the huge Matcha boom that has been booming since last 20 years.
Also, it is said that tea shops that focus on not only tea but also sweets and snacks served with tea are more popular now than in shops that mainly provide loose tea itself where the charm of tea itself is fully appreciated.
The current situation is that there are limited places where you can taste a single origin tea that you can know whole process from a field to cup e.g. where it is comes from, when and how it is made, and you can share the information about tea and the understanding of tea.
It was a very interesting Tea Discussion with a great view of the tea situation in New York.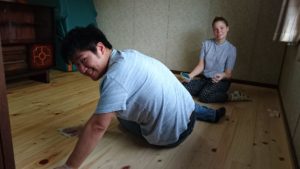 So let's back to the story of Eric himself.
Eric originally attend our tea tour as a guest last November and after this, he wanted to join our internship program and then he applied within a week from the hostel he was staying at during his 2 weeks trip in Japan.
(Actually, this is also how Mariana, Intern No.99 found our internship program!)
His execution capabilities to apply were very nice!
During the internship time here at Obubu,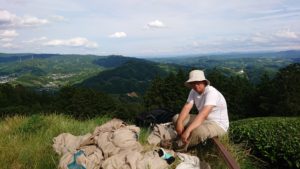 he did a lot of construction for our new office, waxing the new floor, farming with Akky-san and more!!!
One day when we hold a black tea making and tasting competition with all the staff and the interns at Obubu,
he made one of the most delicious black tea by using his finely honed sensibility!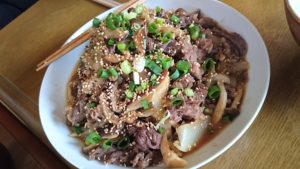 Furthermore, he is really good at cooking!!! We liked to call him, Cheric ( chef + Eric) because of that.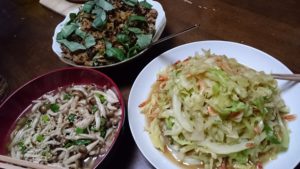 Here are some pictures of food he cooked to share with you…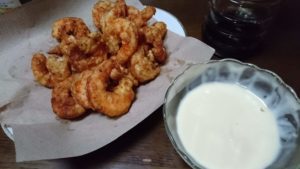 The food he made for us were incredibly delicious, Thank you Cheric!
He is such a handy parson isn't he?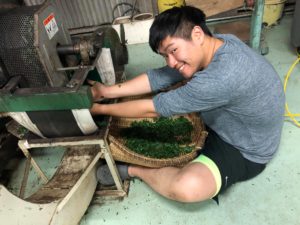 Then time passed, Eric, who came to Obubu as  No. 100 intern student, completed our internship program for 3 months on the 4th of Jun and left here for heading to the next destination. Time flies so fast…
Eric's dream in the future is to open a shop that offers various kinds of tea from around the world. He wants to introduce people to undiscoverd delicious teas that he has found from around the world. 
For these purpose, he is going to explore more tea regions to discover special teas, meet producers, and learn about each tea itself and cultures around the teas. 
His next destination is Hong Kong, Taiwan, Vietnam, Korea, Thailand and Laos. 
We really hope that the experience he had here at Obubu will give some ideas and help for Eric's future! 
Safe travels and enjoy your tea journey, Eric!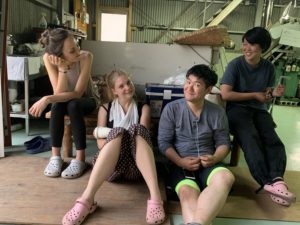 Thank you for reading and if you are interested in joining our internship program please apply from here.
The closest internship application deadline is the 21th of Jun this week!
We look forward  forward to seeing your applications and let's learn and enjoy teas from the fields to the cup together with us :)