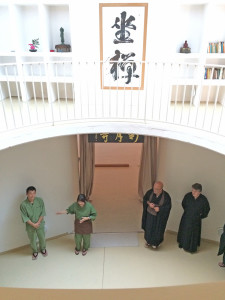 Continuing the tradition from last year, and invited again by Youko from the Matcha House we had a chance to visit Barcelona for the second time. Our second event here was quite different from the others on this year's tour – it was held in a Zen temple and four local monks in their black robes even joined the event!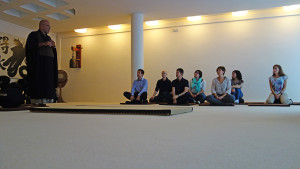 Japanese tea and Zen Buddhism have a long interlinked history. It is said that green tea was brought to Japan from China by Buddhist monks, who used it for meditation and medicine. Given the special location, we decided to give event guests a chance to experience of the link between green tea and meditation. At the beginning everyone was served some Matcha and could join a short meditation session, held by our host Pedro.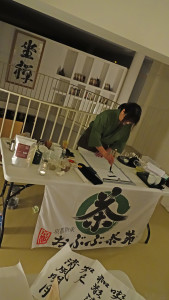 After the meditation, we went on to hold Japanese tea tasting event. The combination of Matcha and medication at the beginning of the event, though, had created a very calm and peaceful atmosphere. It was perfect for a deeper exploration of the Japanese tea culture. In addition to a tea ceremony demonstration we could also explore one of its guiding concepts – wakeiseijaku, or harmony, respect, purity and tranquillity. At the end of the event our host Youko, even did a Japanese calligraphy demonstration to the guests. The event was a truly unique cultural experience.