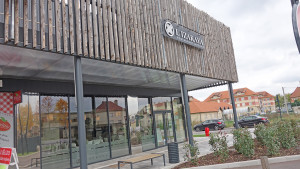 Metz was the final stop on the tour this year. Again we were able to come here because of Lucilia, who help in organizing the event.
The event was held at a Japanese restaurant, called L'izakaya, that owner of which is a Japanese Chef, who makes French inspired Japanese dishes. We decided to hold the event during the lunch break when the restaurant was closed for regular visitors.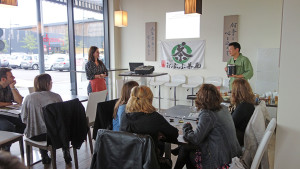 The event gathered a beautiful audience of about 20 people, a lot of whom were friends with each other already. Matsu-san made a short introduction speech in the local language – French and handed over the translation of the event to Lucilia.
Because of some of our tea having been stuck at the postal service, we had almost no tea left. Luckily Lucilia came to help and brought some of Obubu tea from home and we could serve the guests a few teas, such as Hojicha, Kabuse Sencha and Matcha.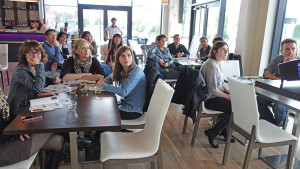 Knowing that it was the final event for the tour, we even offered our teaware to the guests, so that we wouldn't need to carry heavy bags to Japan. And it turned out that our Kyusu and Matcha bowls were really popular.