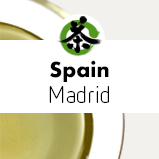 ¡Obubu regresa a Madrid por tercera vez¡
Con el apoyo de Fundación Japón Madrid y Shuwa Shuwa sake bar, ayudados por Anna Poian de Mindful Teas, Obubu os traerá directamente desde Wazuka, Kyoto, el autentico té japonés.
¿Quieres saber lo que es el Matcha? ¿Cómo preparar una taza de buen Sencha? ¿O por qué el Hojicha es tan especial?
Obubu ha preparado dos eventos para vosotros el 13 y 14 de noviembre.
Evento sobre te japonés
El té japonés se está dando más a conocer alrededor del mundo, sin embargo muchas de sus características siguen siendo un misterio para mucha gente. Este evento va a ser una introducción de cómo se cultiva y se produce el té en Japón, y de las tradiciones y cultura que ha ido desarrollando a lo largo de los siglos.
También se podrán degustar diferentes tés japoneses al mismo tiempo que aprender las maneras más típicas de infusionarlos.
Taller de té japonés
No obstante el té japonés se vuelva cada vez más conocido, en realidad no muchas personas saben como mejor prepararlo. ¿Cuales son las técnicas de preparación de los tés japoneses para disfrutarlos de la mejor manera? En este taller práctico, además de aprender sobre la cultura y tradición del té en Japón, vais a poder experimentar vosotros mismos con diferentes tipos de té.
Ambos eventos van a ser impartidos por el carismatico Matsu-san, instructor de té y vice presidente de Obubu y por Simona, practicante de ceremonia de té japonés y responsable del departamento internacional de Obubu; Matsu-san y Simona cuentan con más de 12 y 5 años respectivamente de experiencia en té japonés.
¡No pierdas esta ocasión, vente a conocer y probar unos maravillosos tés japoneses directamente desde el origen!
Evento sobre te japonés
Fecha: 13 de noviembre a las 17:00
Lugar: Fundación Japón Madrid, Palacio de Cañete, Calle Mayor, 69, 28013 Madrid
Entrada: Gratuita.
Inscripción: Completar el formulario más abajo
Taller de té japonés
Fecha: 14 de noviembre a las 17:00
Lugar: Restaurante Shuwa Shuwa, c/ Conde de Xiquena, 12, Madrid
Entrada: Gratuita.
Inscripción: Completar el formulario más abajo
—
Obubu returns to Madrid for the 3rd time! Supported by Anna Poian from the Mindful Teas and hosted by a the Japan Foundation as well as ShuwaShuwa in Madrid we are bringing you authentic Japanese tea all the way from Wazuka, Kyoto, Japan. Are you wondering what exactly is Matcha? How to make a good cup of Sencha? Or what is special about Hojicha? We have something just for you – two Japanese tea events on 13th and 14th November.
Japanese Tea Event
Japanese tea has grown in popularity all around the world. Not many know, however, how it is made or how enjoy it properly. This event will provide an introduction to Japanese tea. You will learn how Japanese tea is cultivated and produced as well as, what culture and traditions it has developed through time. The vent will also introduce a few common ways to brew Japanese tea and you will be able to taste some traditional teas throughout the event.
Japanese Tea Workshop
Japanese tea has been becoming really popular over the years, but how to make it well is still a puzzle for many people. This workshop will give hands on experience with Japanese tea. Not only you can learn about Japanese tea cultivation and traditions, but also taste a range of teas along the way such as Sencha, Matcha, Hojicha and learn to brew some of them yourself.!
Workshop will be led by Matsu-san – a charismatic Japanese tea instructor and vice president of Obubu with more than 12 years of experience in Japanese tea, and Simona – a dedicated practitioner of Japanese tea ceremony and Obubu's international department lead with 5 years of experience in Japanese tea.
Don't miss a chance to try some beautiful Japanese teas and learn directly from the source.
What: Japanese Tea Event
When: 5pm 13th November
Where: Japan Foundation, Palacio de Cañete, Calle Mayor, 69, 28013 Madrid
Admission: Free
How to sign up: Please complete the form below
What: Japanese Tea Workshop
When: 5pm 14th November
Where: ShuwaShuwa, Calle Conde de Xiquena, 12, 28004 Madrid
Admission: Free
How to sign up: Please complete the form below
Formulario de incripción / Registration Form