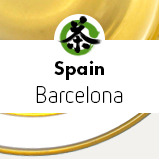 Barcelona buzzing with coffee and tea is inviting us again. Supported and hosted Fundación IECafé as well as Hidden Cafe BCN we are bringing several tea workshop so share our knowledge of Japanese tea and tea culture. Come and join us for a unique chance to taste and learn about Japanese tea.
Matcha workshop will provide an introduction to Matcha, showing how it is produced and explaining the culture surrounding it. In addition to tasting several kinds of teas you will also have a chance to make your own cup to Matcha.
Japanese green tea workshop will give you hands on experience with a few other Japanese teas. Come to learn about different tea varieties and utensils used in preparation. You will also be able  take part in a blind tea tasting to guess the studied teas.
What: Matcha Workshop
When: 12am on 10th March
Where: Fundación IECafé, Foundation, Passeig Ferrocarril, 339 Bajo. 08860 Castelldefels / Barcelona
Admission: €54.45
How to sign up: Please visit this page
What: Japanese Green Tea Workshop
When: 4pm on 10th March
Where: Hidden Café BCN, C/ Constança esquina Déu i Mata, 08029, Barcelona
Admission: TBC
How to sign up: TBC
What:Japanese Green Tea Workshop
When: 10:30am on 11th March
Where: Fundación IECafé, Foundation, Passeig Ferrocarril, 339 Bajo. 08860 Castelldefels / Barcelona
Admission:€54.45
How to sign up:Please visit this page