Illuminated by the mangetsu, the beloved full moon, we made our way down to the factory to witness the processing of our final summer tea: the Sencha of the Summer Sun. We were welcomed by Akki-San, whose sun-baked face, bright eyes and mischievous smile revealed yet little of the extraordinary effort he (like many other tea farmers in the world) had exerted over the past three months, harvesting by day and processing by night.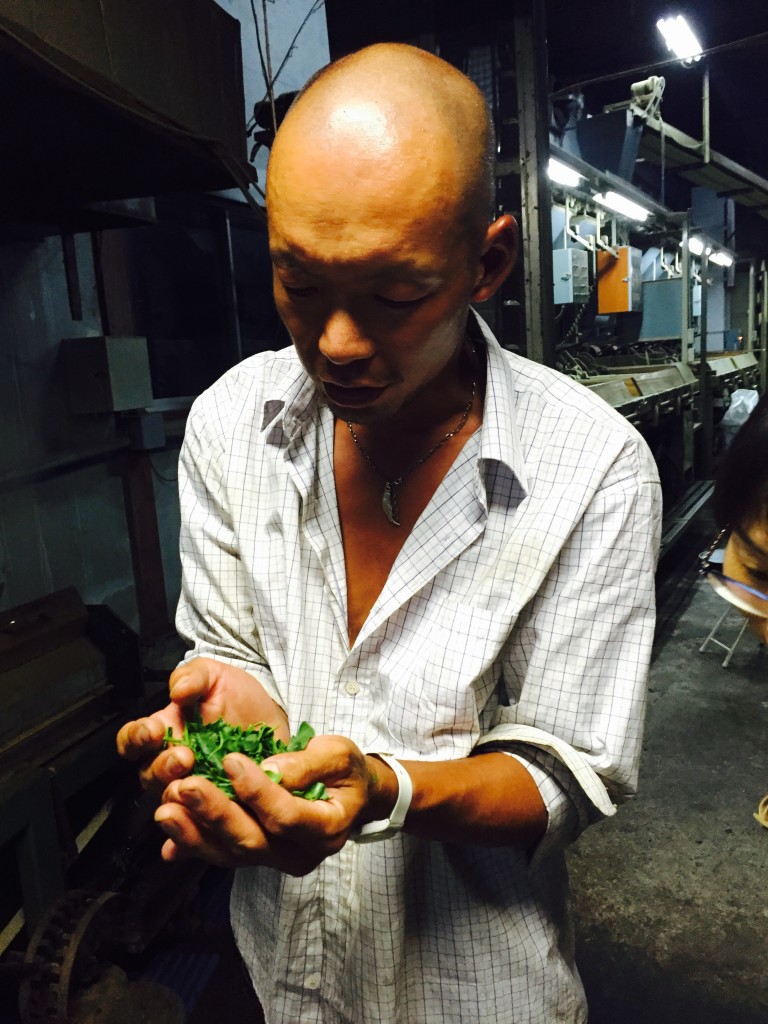 The ambrosial smell of tea was in the air and we blissfully buried our noses into the freshly steamed leaves. They had just finished 30 seconds of steaming to halt oxidation, just beginning their three or four-hour journey towards becoming aracha (the tea which is Obubu's final product and which is sent on to a second processing by most other Japanese farmers). We had arrived just in time to witness the complete metamorphosis, from steaming to cooling, on to multiple rolling/dryings to, at last, the final drying.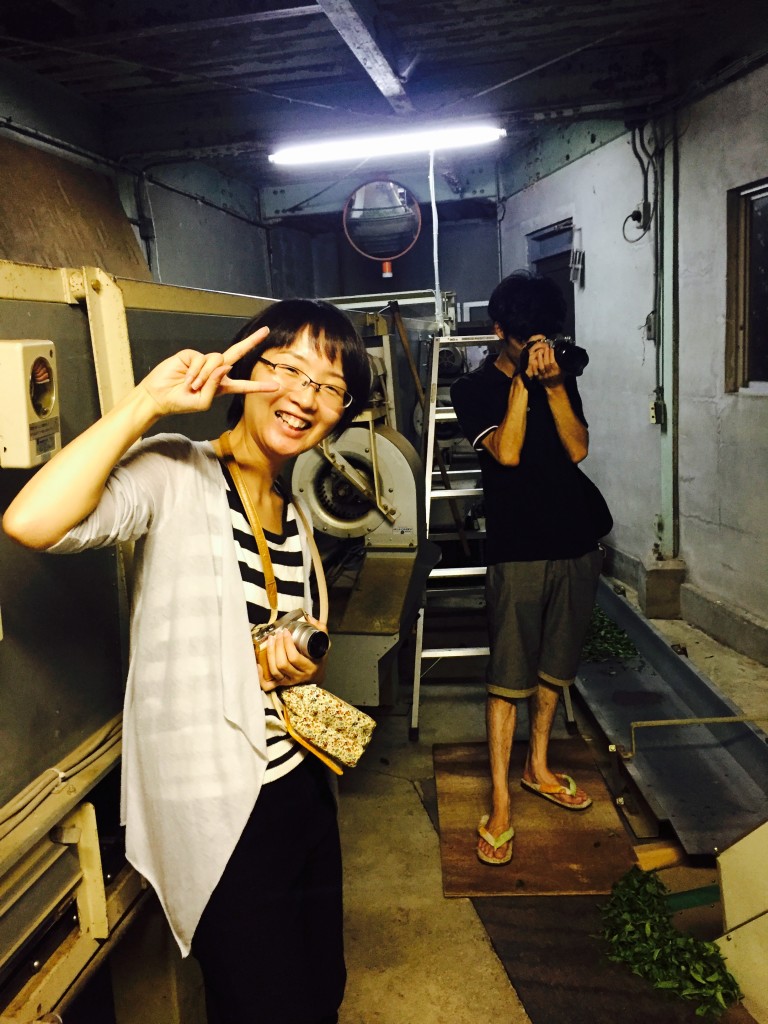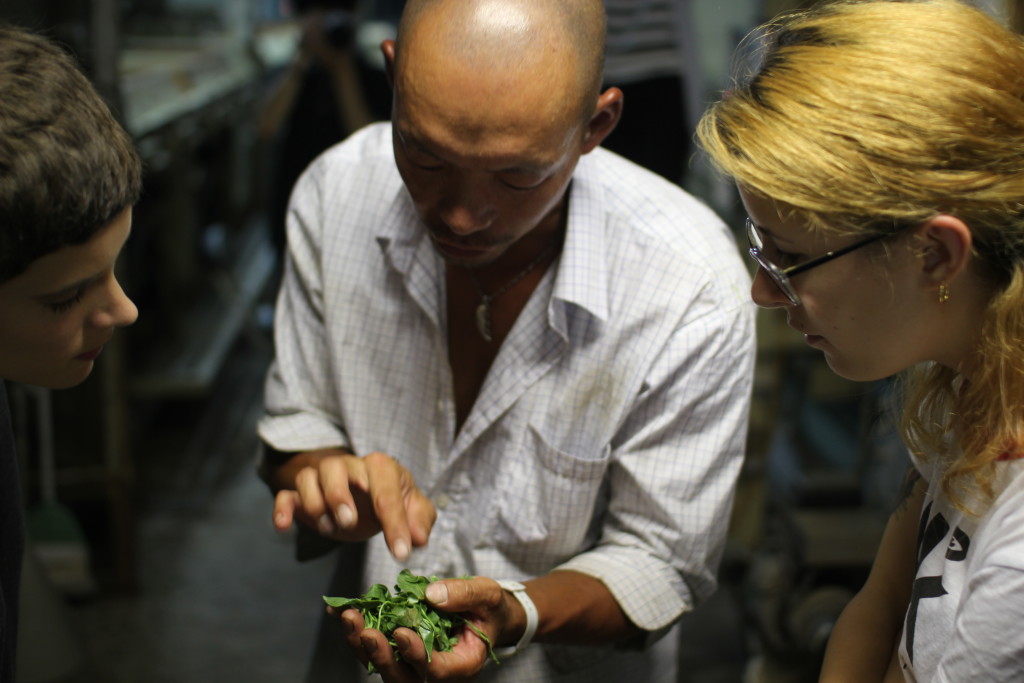 Over the next few hours, we flitted around Akki-San like paparazzi, eager to capture with our minds and our cameras every dissipating moment. We were drinking in, for once not the liquor itself, but the specific happenings which transform an ordinary leaf into the treasure which has shaped societies and history.
Akki-San effortlessly shape-shifted from jokester to tea sensei to engrossed artist, absorbed by his tea leaves and his mind exercising that which we, as interns, dream of one day fully grasping. Around us the evolution of the tea's smells, moisture content, texture, shape was a feast for all senses.
The rough rolling machine's tiny flap window gave us a peek into the tumbling happening inside, the leaves twirling around like plankton in a stormy ocean. We watched, imagining we were passengers below deck peering from our portholes. The musicality of the final rolling/drying machine made our heartbeats dance and our bodies follow. A rich caramel aroma lifted off of the leaves and we drunkenly inhaled.
Suddenly, every sensation gave way to wonder as we discovered our little leaves now arrow-straight and slender, transformed into beautiful Japanese green tea.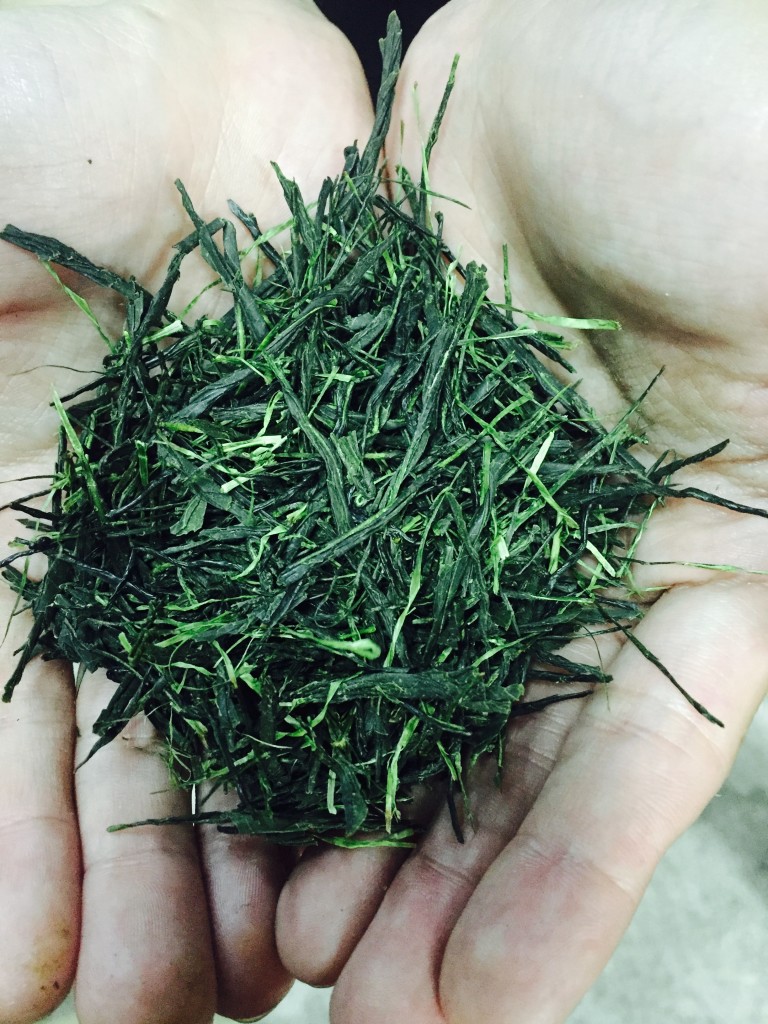 The curious moon was peering through a small window of the factory and blessed our tenacious tea farmer. When asked if he was excited to sleep after three months of incessant activity, Akki-San replied no: he mostly wished he could return to harvesting the first Shinsha of the year and do it all over again. We do too! Although then this year's harvest wouldn't be in our tea cup, or yours, and that would be a shame.
Happy drinking! Happy summer!
Written by Elsa Carette