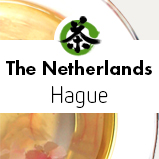 Obubu is coming to the Hague for 4 time! Hosted and supported by the International Tea and Coffee Academy we are bringing you authentic Japanese tea all the way from Wazuka, Kyoto, Japan. Do you want to learn more about Japanese teas? We have something just for you – A Japanese Tea Masterclass on 25th November.
Japanese tea has grown in popularity all around the world. Some have tried it, but few know much about it. How is Japanese tea produced? What is the culture surrounding it? What is the current situation of tea in Japan? Japanese Tea Masterclass will delve into these and many more questions about Japanese tea. During the class you will learn about Japanese tea brewing techniques and will have a chance to compare different kinds of Sencha. In addition to that there will be an opportunity to roast Hojicha and of course to make your own Matcha!
The class will be led by Matsu-san – a charismatic Japanese tea instructor and vice president of Obubu with more than 12 years of experience in Japanese tea, and Simona – a dedicated practitioner of Japanese tea ceremony and Obubu's international department lead with 5 years of experience in Japanese tea. Don't miss a chance to experience some beautiful Japanese teas and learn directly from the source.
What: Japanese Tea Masterclass
When: 11am-4pm 25th November
Where: International Tea & Coffee Academy | Saturnusstraat 60 (unit 72 at the Caballero Fabriek), 2516 AH The Hague
Admission: €97
How to sign up: Book your place here